The Center for Women in Technology at UMBC celebrates our 20th birthday this year with events and activities throughout the 2018-2019 academic year.
Every other Wednesday throughout the school year, we will add a feature on one of our alumni to this page as well as our social media accounts. We hope you enjoy seeing where they are now and reading about how their time in CWIT impacted their lives as much as we do!
Alumni Feature, August 29, 2018:
Name: Kwame Robertson
Scholars Program: Cyber (Y3 cohort)
Graduation: May 2018
Major: Computer Science
Current Job: Splunk Professional Services Consultant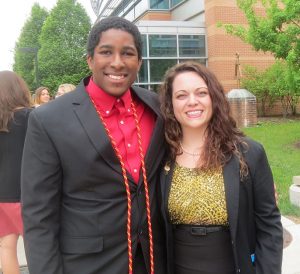 Kwame says:
"Without CWIT, I don't think I would have made it so far in my academics, met so many friends, and made everlasting bonds with my residents as the resident assistant for two years on the CWIT Living-Learning Community. Because of CWIT and the Cyber Scholars Program, I was able to get my first internship and later my first full-time position after graduation through Cyber Practicum. It was in Cyber Practicum that I found out about a really cool analytics tool called Splunk and made it a goal to learn more about it. I got certified and picked up a part-time job at school, then graduated with a full-time position where I got to learn all about it.
My time in CWIT/Cyber was an absolute ball of time. I would redo my experience many times over if I could."