What is CWIT Extravaganza?
CWIT Extravaganza is a new event co-hosted by the CWIT Student Council and the CWIT Affiliates Programs. This day-long event will be an opportunity for our CWIT community to come together and showcase our awesome skills, hobbies, talents, and passions. Additionally, we will have a few sessions focused on community building and relaxation, a raffle, and other exciting surprises!
When is CWIT Extravaganza?
CWIT Extravaganza will be held on December 17th, 2020, which is the day after finals end. You will have your choice of sessions to attend from 11AM – 2PM, and then will finish off the event with an hour-long Bingo session from 2PM-3PM!
I'm so excited to see the schedule of events!
We are so glad that you are just as excited as we are! Check out the schedule below…it is also available on myUMBC and will be emailed out as well. Click on the session name for a direct link to the WebEx event.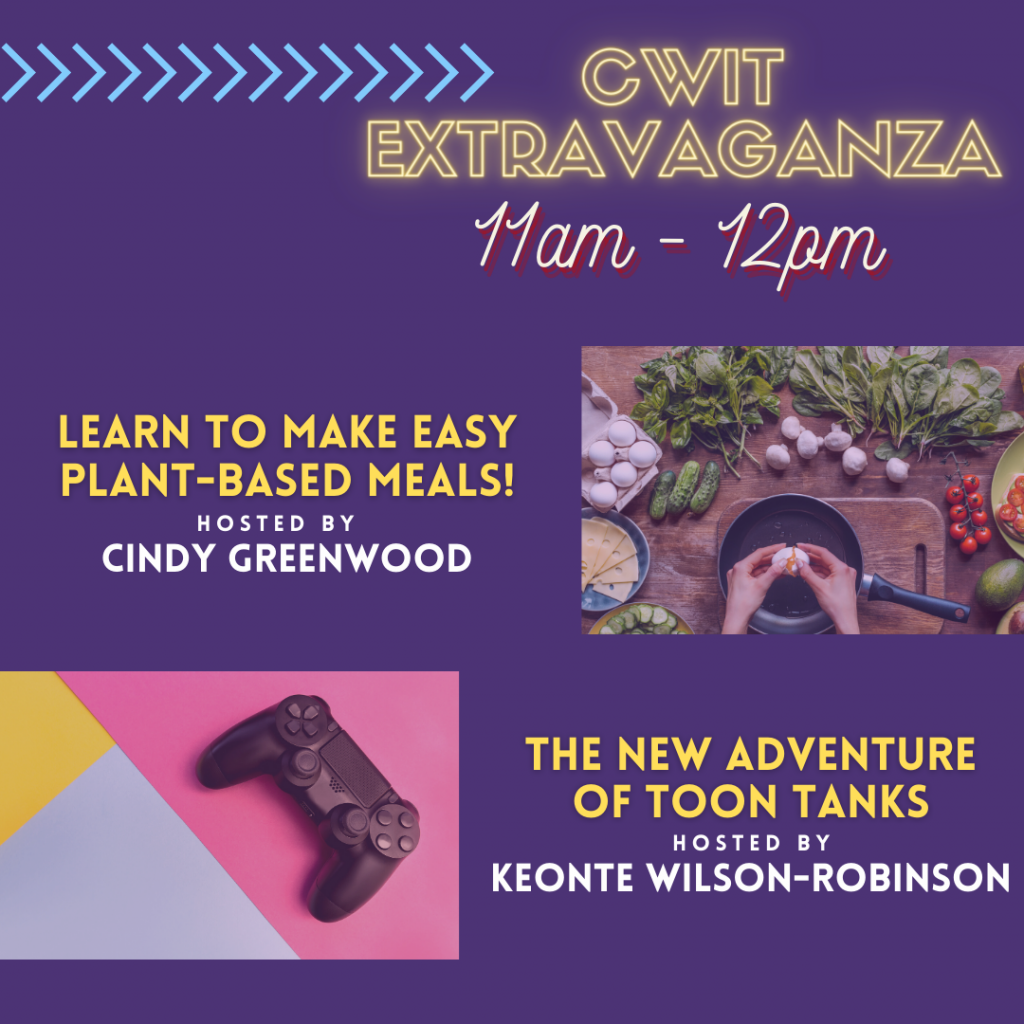 Learn to Eat Plant-Based Meals by Cindy Greenwood:
Meat and cheese lovers and vegans/vegetarians alike will find something delicious to try from this session! Participants can just tune in and watch or buy some or all of the simple ingredients (to be posted on the event website and/or sent out via email in early December) and try the foods out for themselves. Recipes that will be made live will include Fiesta Soup and Chocolate Peanut Butter Mug Cake. Additional recipes, tips for creating your own creative and tasty plant-based meals to meet your own tastes, and suggestions for great plant-based products to buy will also be covered. Examples include tips for creating delicious salads and stir-fries, which vegan cheeses are worth a try, and more. Also feel free to come with any cooking or meal prep questions (and I'll do my best to answer them!).
Fiesta Soup: 2 cups vegetable broth, 1 can black beans, 1 can vegetarian refried beans, 1 can corn, 1 jar salsa
Chocolate Peanut Butter Mug Cake: 2 Tbsp. flour, 2 tsp. cocoa powder, ¼ tsp. baking soda or powder, 1 Tbsp. sugar or maple syrup, ½ tsp. vanilla extract, 3 Tbsp. plant milk (soy, etc.),1 Tbsp. peanut butter, 1 tsp. extra peanut butter, Optional: chocolate chips
The New Adventure of Toon Tanks by Keonte Wilson-Robinson:
What was your favorite game in gym class? Football? Soccer? Maybe kickball? My favorite game was capture the flag. Two teams, one on each side of the field, and their only goal is to capture the opposing team's flag. My team always came up with big brain plans to win. One time my friend was so fast that he juked someone into a bush, breaking their poor ankles (metaphorically)! Another time I had the other team's flag in the safe zone and threw it right over their heads so my teammate could catch and run the flag to our side. I had so many fun experiences playing capture the flag and want to share them through a video game. My name is Keonte, and I am a first semester transfer and founder of Dev Keo Games. Dev Keo Games is a video game development company currently developing a new game called Toon Tanks- a comic book styled, firepower packed tank game with fast paced multiplayer action inspired by Capture the Flag! Two teams of four players battle in mini tanks to capture the opposing team's flag. Players need to use a combination of Power Shells and other unique gameplay mechanics to gain the advantage and win the game. I'm also a T-SITE Scholar and am planning on using this game to raise money to make another game addressing racial and gender inequality. I'm excited to showcase what I've been learning and working towards! See you soon!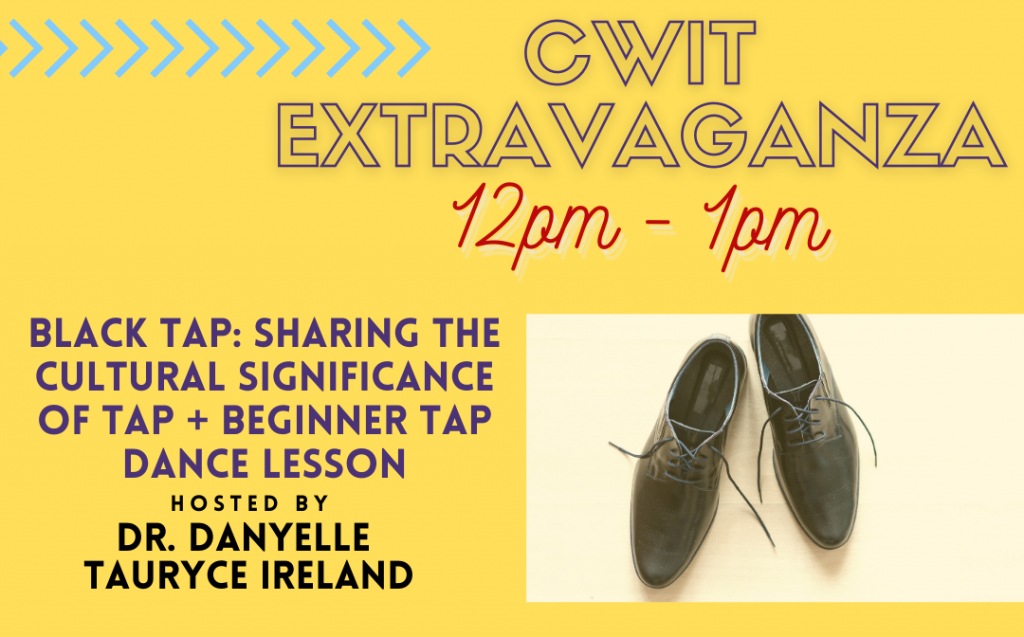 Black Tap: Sharing the Cultural Significance of Tap and Beginner Tap Dance Lesson by Dr. Danyelle Tauryce Ireland:
Have you ever been curious about or interested in tap dance? Dr. Ireland has been taking adult tap dance lessons (on and off) for the past few years and is using the 2020 quarantine period to ramp up her skills. Join this session where she will: 1. give a brief presentation on the cultural significance of tap dance in the African American community, and 2. teach a brief beginner tap routine that all can learn and practice together!
Materials needed: hard-bottomed shoes; hard floor (or a piece of cardboard to go on top of carpet); comfortable pants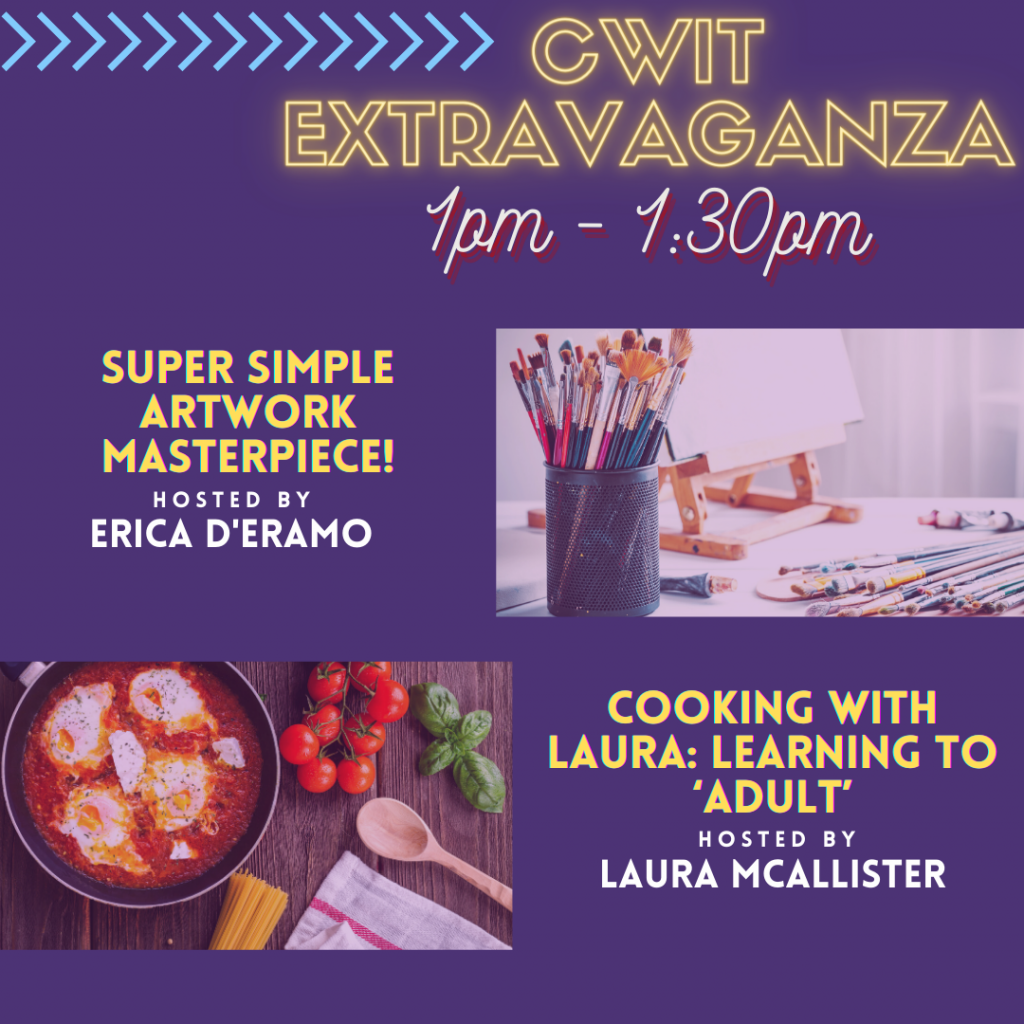 Super Simple Artwork Masterpiece by Erica D'Eramo:
Channel your inner Picasso and learn how to create your very own masterpiece in super simple steps. We will create abstract artwork that will be fun and possibly a bit messy!
Materials Needed: 2-5 acrylic paint colors; 2-5 plastic cups (same number as paints); 2-5 brushes or popsicle sticks; 1 canvas; plastic table cloth or trash bag to lay under your painting; 1 cup of water
Cooking with Laura: Learning to 'Adult' by Laura McAllister:

In this session, I will be showing you how I have explored cooking for myself for the first time. Being a full time student can be difficult, and it is hard to manage stress and spare time to cook for yourself throughout the day. In this presentation, I will be revealing what worked and what didn't, as well as sharing some of my favorite easy recipes for us busy students! It has a lot to do with trial and error, but I have learned a lot about my strengths and weaknesses, and I am so excited to share them with you all.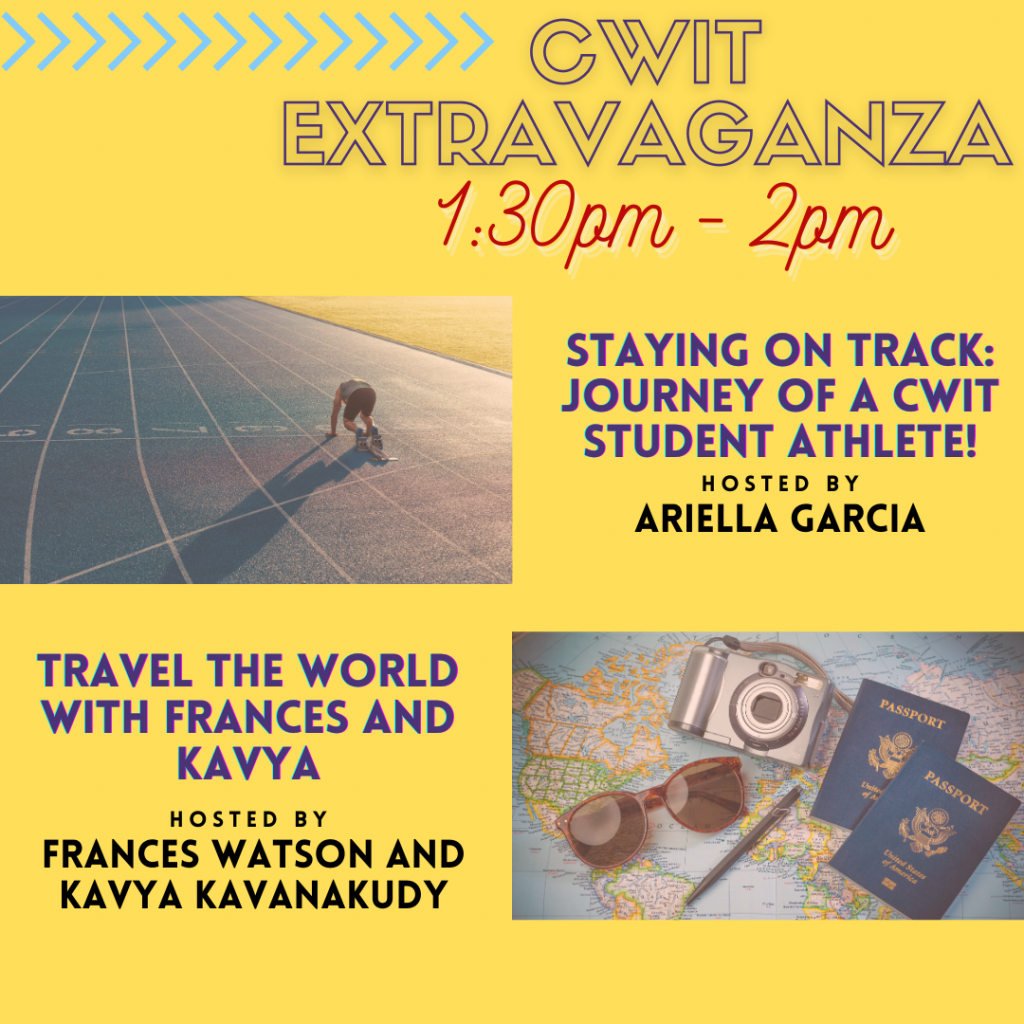 Staying on Track: Journey of a CWIT Student Athlete by Ariella Garcia:
I will be presenting my academic and athletic experience here at UMBC. Especially the trials and tribulations of balancing everything with athletics, the scholar program and securing internships leading me to a full-time offer after graduation.
Travel the World with Frances and Kavya by Frances Watson and Kavya Kavanakudy:
This year, many of our travel plans were cancelled due to the pandemic. Thankfully, due to precautions we took while planning, we were able to get most of our money back! In the session we will be talking about various tips and precautions to take when planning trips from booking travel agents to study abroad. There will also be a few fun stories from our adventure around the world!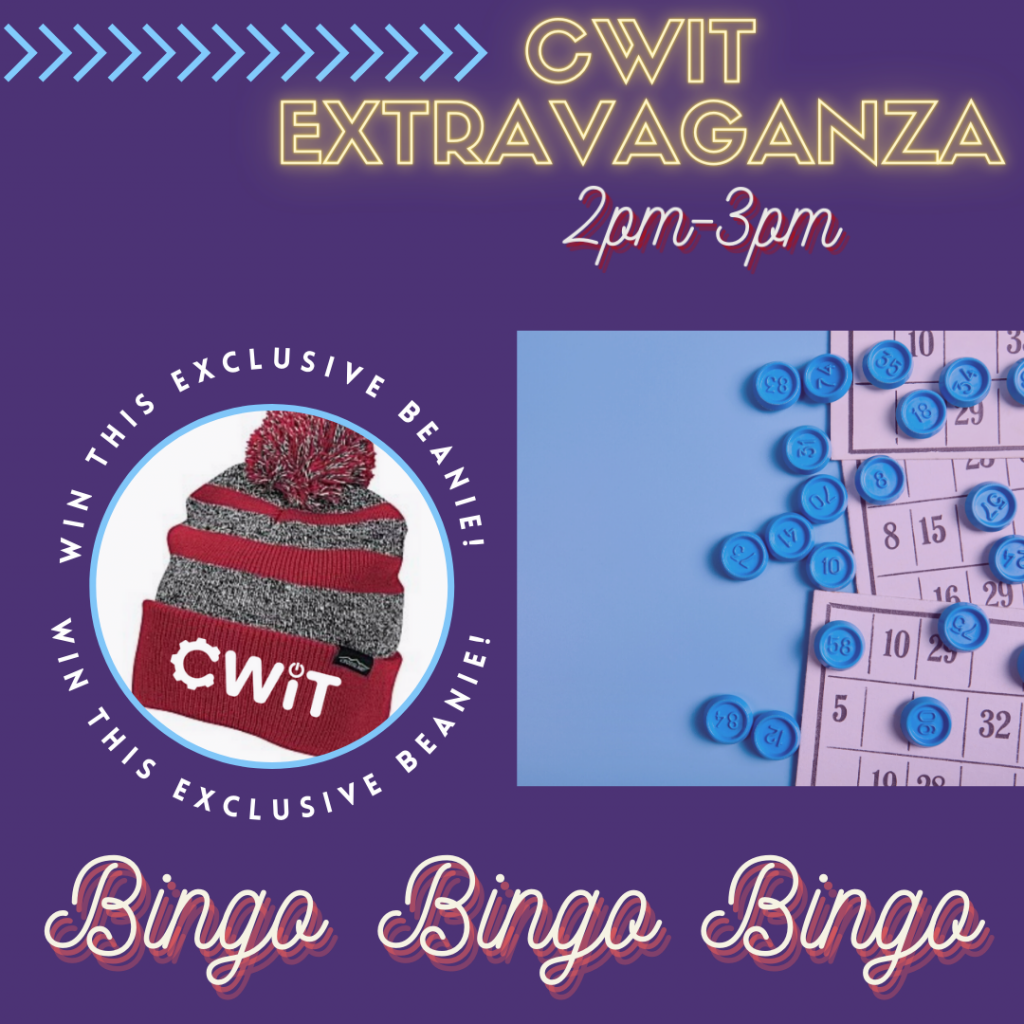 Join us for Bingo from 2PM-3PM for your chance to win an exclusive CWIT beanie!
I heard there was a raffle too! Is this true?
It totally is! We will be raffling off 5 OCM care packages during the Bingo event. You can earn tickets by attending sessions, entering the door-decorating contest, and by hosting a session. You must be at the Bingo session to claim your prize.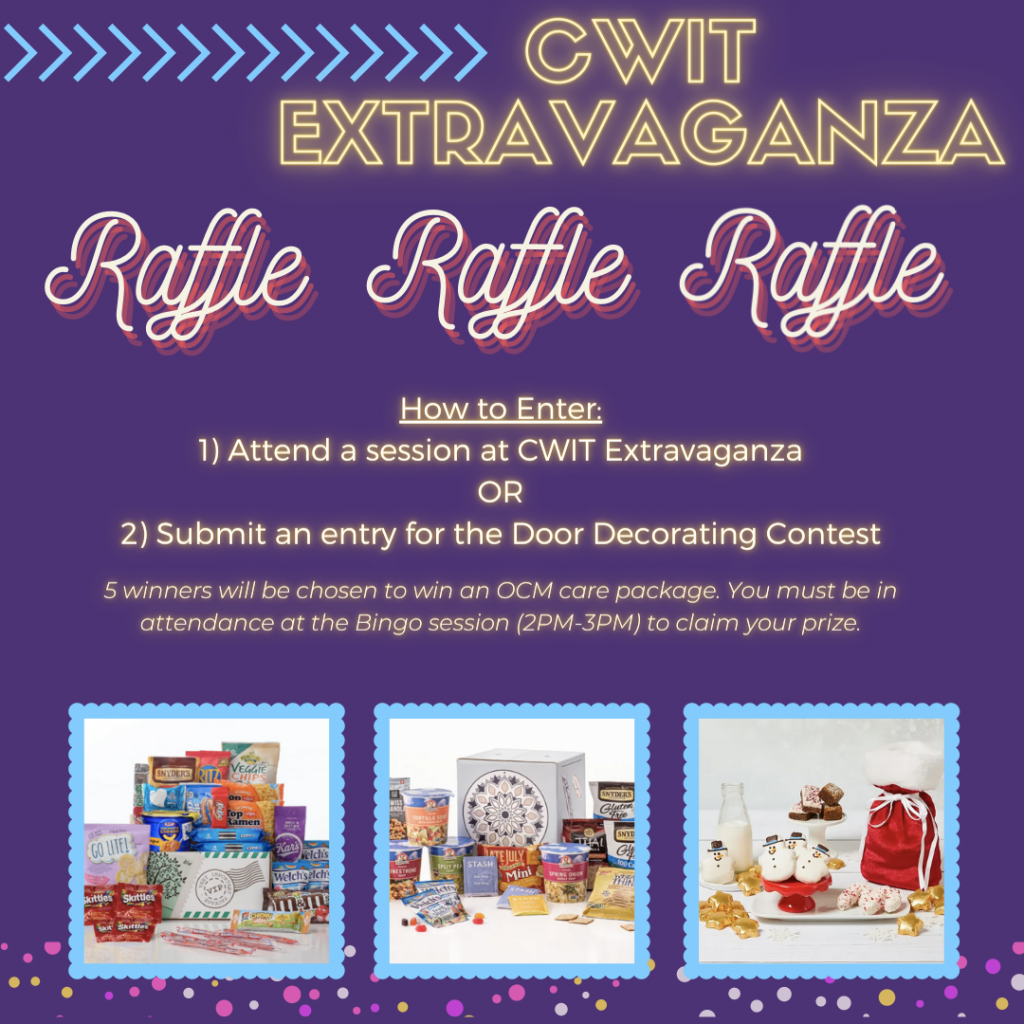 I have so many questions! Who should I contact?
Lucky you! You have your choice of three people that you can contact with your questions…any of us will be happy to help!
Frances Watson, CWIT Student Council President – fwatson1@umbc.edu
Kavya Kavanakudy, CWIT Student Council Vice President – kavyak1@umbc.edu
Kate O'Keefe, CWIT Assistant Director – kokeefe@umbc.edu