Students majoring in Computer Engineering, Computer Science, and Information Systems with an interest in cybersecurity (and/or related fields such as data science and artificial intelligence) are encouraged to register as Cyber Affiliates in order to connect with other cyber-interested students, be invited to a variety of cyber-related and professional development events, and receive notifications about internships, research, and other relevant activities.
Register here to become a Cyber Affiliate!
Affiliates are also invited to participate in peer mentoring.  In this program, new students (freshmen and transfer students) have the opportunity to request a mentor, an upper-class student in the same major who can help with transition issues.  Returning students are encouraged to sign up to become mentors to these new students.
Cyber Practicum
Affiliates may also enroll in the Cyber Practicum zero credit, pass/fail class that meets on Fridays from 11am-12pm.  The class offers students a broad overview of the cyber industry through weekly guest lectures from cybersecurity professionals.  Topics range from technical talks to professional development advice and more. Space is limited. To enroll for Fall 2019 or to ask any questions, contact Cindy Greenwood at cindyg@umbc.edu.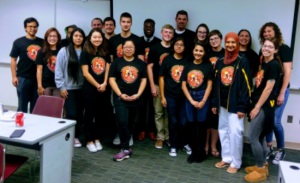 Above: Cyber Scholars and Affiliates participated in a CyberEngineer Competition, sponsored by Northrop Grumman, in Fall 2017