Fall 2017 
Note from the Director
By Dr. Penny Rheingans, Director
Happy holidays! We've got lots of CWIT news to share.  It's been a busy and productive semester.
Hailey Jowanowitch is the new face at our front desk. She joined CWIT as the new General Assistant in September, supporting CWIT office operations, fiscal management and student programming. Hailey is a recent UMBC graduate with a BA in Modern Language and Linguistics.
We will celebrate six graduations later this week at commencement – Michael Byers (CMPE, TSITE), Pragya Chaudhari (IS, Cyber), Abrere Sophie Kozolan (IS, TSITE), Jamal   Savoy (CMSC, Cyber), Bethany Von Ludwick (IS, Cyber), and Danielle Zack (CMSC, Cyber). All have been integral parts of the CWIT community and we look forward to seeing what amazing things they do next.
As the New Year approaches, we're starting to think about selecting our next cohort of Scholars. We're looking forward to seeing many of you there as faculty or industry interviewers on the last Saturday of February.  As always, we could not do what we do without the generous support of our supporters and partners across UMBC and beyond. We are grateful for your strong and unwavering support.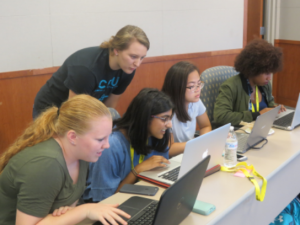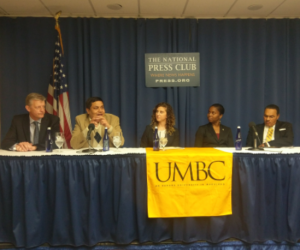 Cyber Corner
By Cindy Greenwood, Assistant Director
The Cyber program had another eventful fall semester. From welcoming the fifth cohort of Scholars and Associates (photo bottom right) to hosting the third annual Cyber 101 event for high school girls (photo second from bottom right) and hosting a record number of events with our corporate partner, Northrop Grumman, cyber-interested students had plenty of opportunities to get involved.
A highlight from our work with Northrop Grumman included a four-week CyberEngineer Competition (photo at top right) in which teams of students created cybersecurity-related apps using a raspberry pi device and their imaginations and skills, with the help of mentors from Northrop. Staff from Northrop's Cyber Academy also offered students in the Cyber Practicum a hands-on experience, completing a competition in September (photo second from top right).
One of our Cyber Scholar alumni, Lauren Mazzoli (Y1), made the news a couple of times through involvement with UMBC. She was the recipient of the Alumni Association Rising Star Award in October and was a panelist at a cyber-focused event in December, which also featured Dr. Hrabowski and Dr. Anupam Joshi, CSEE department chair and director of the Center for Cybersecurity (photo right center).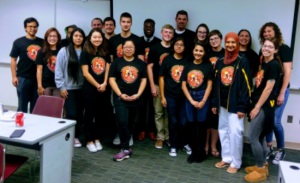 CWIT Living-Learning Community
Life on the CWIT LLC is going well, with residents participating in many activities, including: Study groups, monthly Sunday night dinners, peer mentoring, movie nights, Zumba, birthday celebrations, and much more.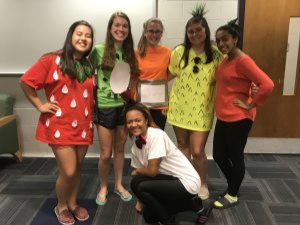 Pictured, back row, l-r: Ashley Amundsen, Maddy Selby, Liz Emberger, Olivia Bailey, and Kavya Kavanakudy; Front: Frances Watson
Assessment & Grants
By: Dr. Danyelle Ireland, Associate Director
We recently completed a paper on the effectiveness of the CWIT Scholars Program model entitled, "A Model for Increasing Gender Diversity in Technology." Our assessment used a matched pairs, causal-comparative design and examined institutional data from 2002 – 2012. We found that, compared to peers with similar academic and demographic profiles, CWIT Scholars have better academic performance outcomes than their peers in the College of Engineering and Information Technology (i.e. shorter time to degree; higher grade point average, graduation rate, and retention rate). We are excited by these results which demonstrate the value of our CWIT programs and we look forward to presenting our paper at the annual meeting of the Association of Computing Machinery Special Interest Group on Computer Science Education (ACM SIGCSE) in February 2018!
Rheingans, P., D'Eramo, E., Diaz-Espinoza, C., Ireland, D. A Model for Increasing Gender Diversity in Technology. SIGCSE'18, March 2018.

Our newest grant-funded project is supported by the National Science Foundation (DUE – 1626413) and is titled, the Post-Transfer Pathways Program for Computing and Engineering Majors. This grant supports pre-and post-transfer advising as well as a special first year experience course for incoming transfer students in computing and engineering majors. We were pleased to have one of our Cyber Scholars, Victoria Herr (Y4), serve as peer instructor for the inaugural Pathways TRS 201 course in computing this past fall. Check out the Pathways website (ptp.umbc.edu) or contact Dr. Ireland (direland@umbc.edu) to learn more about this exciting program and how to get involved!
Grace Hopper Celebration

Thirty-six students traveled to Orlando, Florida, in October 2017 for the   inspirational Grace Hopper Celebration of Women in Computing.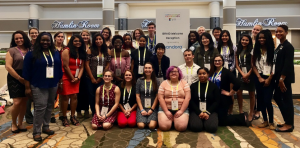 IMPACT Workshops
By: Erica D'Eramo, Assistant Director
COEIT women and their allies were invited this semester to join experts in their field in an engaging series of workshops focused on increasing knowledge, self-reflection, and inspiring action! Topics included  Diversity  Issues in Technology, Stereotype Threat, and Impostor Syndrome, among others.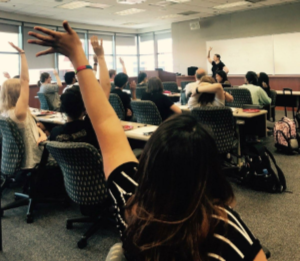 BEST of CWIT
Over 100 high school students and their families registered for CWIT's annual BEST of CWIT event on October 20, 2017. Students and their families learned about CWIT and heard from a faculty panel. Students also attended Scholar led workshops while their family members learned about Admissions and Financial Aid and heard from a student panel.
Alumni Updates
Tawny Barin (C3):  After spending two years with Red Bull Media House, Tawny has taken a new role at NBC Entertainment as Director, Metadata & Content Operations for the NBC Digital team.
Emily (Scheerer) Brown (C9):  Emily and Lauren Mazzoli (Y1) are now board members for the local non-profit, HowGirlsCode, as of August 2017. Emily is also the vice president of the board.
Amy Ciavolino (C8):  Amy started in June 2017 as a Sr. Engineer and Tech lead at Kickstarter, and in January will be moving into an Engineering Manager role.
Nathan Cline (Y1):  Nathan was Protégé in Northrop Grumman's Mentoring the Technical Professional class of 2017, along with Wafa Raja (Y2) and Nishay Raja (T2). He also completed his Project Management Certificate through the University of California Irvine, is graduating this week from UMBC with a Master's degree in Systems Engineering, and was accepted as a speaker to the international 2018 CMMI Conference.
Dana Douglas (C2):  Dana got married in June and in November started a new job as a UX Researcher for AnswerLab.
Mariya Smolkin Frates (C2):  Mariya and her husband, Zach, are expecting Baby Boy Frates in March 2018! She also started a new job about three months ago as a Technical Product Manager at CPower Energy Management.
Alec Pulianas (C9):  Alec started at Johns Hopkins Applied Physics Lab as a Computer Engineer in October 2017.
Holly Johnson (C11):  Holly started her Master's degree program in Sustainable Energy Technology at TU Delft in the Netherlands, where she will be specializing in wind, solar, and storage technology.
Snapshots of Receptions, Yoga & Team Building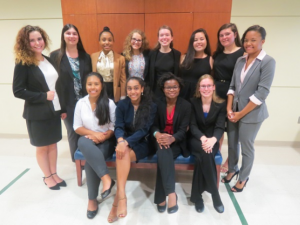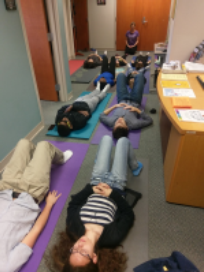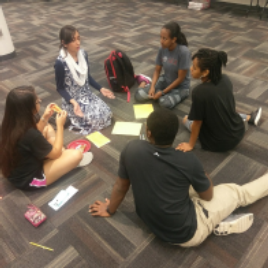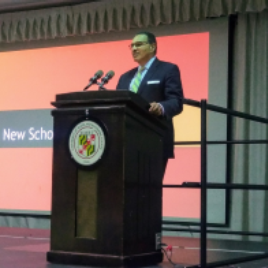 T-SITE Update
By: Dr. Danyelle Ireland, Associate Director
Since the fall of 2012, CWIT has awarded scholarships to 36 transfer students from Maryland community colleges as part the Transfer Scholarships in IT and Engineering (T-SITE) program. T-SITE Scholars are currently funded by two grants from the National Science Foundation S-STEM program (DUE-1154300 and DUE- 1458343).
One hundred percent of all T-SITE Scholars in the first five cohorts were retained in engineering or computing majors. The average time to graduation for T-SITE Scholars is three years after transferring to UMBC. Additionally, eighty-six percent of T-SITE scholars in the first four cohorts have engaged in an internship or research experience.  Our sixth cohort of T-SITE Scholars entered in fall 2017. We look forward to continued academic success and professional opportunities for T-SITE Scholars!
Applications for the seventh T-SITE cohort, entering in Fall 2018, are due on March 1, 2018. Please spread the word to any students at Maryland community colleges who might be interested. The online application and program information sheet are available on the CWIT website (cwit.umbc.edu).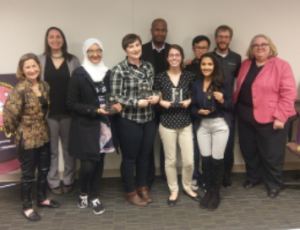 Faculty Mentoring
CWIT thanks this year's faculty mentors: Dr. Nilanjan Banerjee, Dr. Marie desJardins, Dr. Katie Gibson, Dr. Anupam Joshi, Dr. Karuna Joshi, Dr. George Karabatis, Dr. Nagmeh Karimi, Dr. Chuck LaBerge, Dr. Erin Lavik, Dr. Deepa Madan, Dr. Christopher Marron, Dr. Charles Nicholas, Dr. Penny Rheingans, Dr. Janet Rutledge, Dr. Carolyn Seaman, Dr. Renetta Tull, and Dr. Krystle Wilson.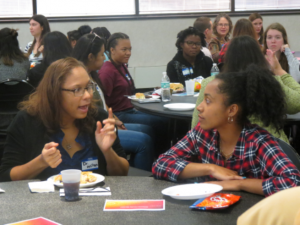 Allies in CWIT
By: Erica D'Eramo, Assistant Director
Allies in CWIT (formerly known as Men in CWIT) is a dedicated group of allies of women in technology, which meets twice a month to discuss gender issues in technology, deepen their understanding of their own identities, and work together to develop projects that will positively impact the College of Engineering and Information Technology (COEIT) community. A team of Scholars, Bryan Vanek, Connor Craft, and Sam Mendimasa, collaborated to create a clear mission that aligns with CWIT's goals. The mission is to positively influence the gender climate in the COEIT community at UMBC through educating allies of women in computing and engineering fields. Three goals that are key to this aspiration are:
Learning about issues affecting the gender climate in COEIT.
Understanding of one's own privilege and understanding one's identity in the group.
Taking action and implementing the skills and techniques learned.
Meeting topics included: Understanding the COEIT Climate, Building Allies in the CWIT Community, Green Dot Training for Violence Prevention, Microagressions, Intersectionality, and more.  The semester culminated with the Allies presenting their work on projects they have developed in small groups and receiving feedback from the CWIT staff and fellow students. We look forward to seeing the implementation of these thoughtful projects in the spring!
Cyber 101     
By: Cindy Greenwood, Assistant Director
Twenty high school senior and junior girls participated in the third annual Cyber 101 overnight program the weekend of September 23-24, 2017.  The event was planned and facilitated primarily by current Scholars and Affiliates, including Sami Turskey (Y2), Veronica Clements (Y2), Hannah Russell (Y4), Lauren Loftus (Y4), Kwame Robertson (Y3), Seamus Burke (C15), and Bryan Vanek (T4). Additional current students assisted with various parts of the program as well.  These students led sessions to introduce students to topics such as cryptography, networks, malware, and more.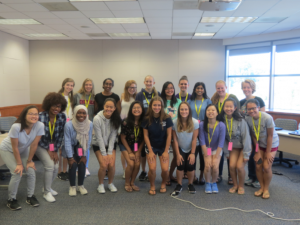 December Graduates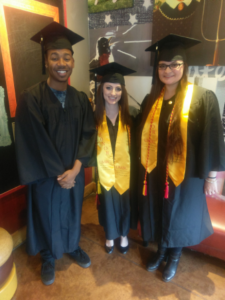 Above: Cyber Scholar graduates Jamal  Savoy, Bethany Von Ludwick, & Danielle Zack
Below: T-SITE graduates Sophie Kozolan (second from left) and Michael Byers (far right)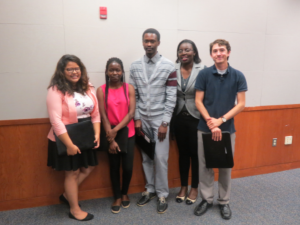 Connecting with Industry Professionals
By Dr. Danyelle Ireland, Associate Director
In Fall 2017, twenty-five industry professionals generously gave of their time to serve as mentors as part of our Industry Mentoring Practicum (IMP). Each fall, CWIT, Cyber and T-SITE scholars enroll in a five to six session practicum that is offered in collaboration with UMBC's Career Center. Several of this year's mentors participated in these sessions – in addition to working with their assigned mentee. At the practicum sessions, mentors shared valuable information about their own career paths, lessons learned along the way, and practical tips for professional success in tech industries. Additionally, the Career Center led an informative guest presentation on how to respond to and negotiate a job offer. Scholars benefited from career planning guidance throughout the semester in the practicum and the one-on-one support of their industry mentors.
This year's mentors were Ms. Ronni McTier, ICF; Mr. Michael Rahimi, Coalfire; Mr. Rithy Chhay, Sentinel Solutions, LLC; Mr. Michael Smolyak, Next Century Corp.; Ms.  Zozscha Bomhardt, General Electric; Mr.  Matthew McGinnity, Regal Beloit Corporation; Ms. Lilian Johnson, Cornell University; Ms Joan  Worthington, HireVue; Ms. Denise Donohue, NetCraftsmen; Ms. Oana Tibu, CareFirst BlueCross Blueshield; Dr.  Claudia Pearce, National Security Agency; Dr.  Jacqueline Akinpelu, Johns Hopkins APL; Ms. Wyndolyn Alexander, Northrop Grumman; Mr.  Chris Liow, Allstate; Ms. Jackie Gorey, Legg Mason; Ms. Kristine Martz, Exelon Corporation; Ms. Terra Lyons, Northrop Grumman Corporation; Ms. Monica Koepper, Cisco Systems; Ms. Amber-Lee Brown, Northrop Grumman; Ms.  Paula Fetterman, FS-ISAC; Mr. Charles Davis, Asymmetrik; Ms. Ari Blenkhorn, UMBC; Dr. Janet Oren, Legg Mason; Ms. Xin Wang, Cisco Systems Inc.; and Dr. Yatish Joshi, Cisco Systems Inc.
Summer Retreats
The annual New Scholar Retreat (pictured below left) was held July 14-16 to introduce new Scholars to the CWIT community, set expectations, and build relationships. Highlights included a day at a challenge course, a formal dinner with faculty, and lots of icebreakers. The Affiliates Retreat (below right) was held on August 12 and also focused on community building and an introduction to  CWIT.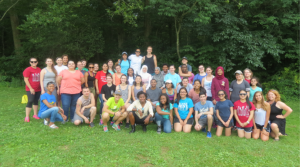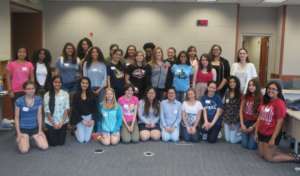 Affiliates Update
By: Cindy Greenwood, Assistant Director
This fall, we implemented a new structure to our Affiliates programs to better track and recognize students who are especially engaged. Activities were divided into four categories (Community Building; Academic Success; Professional Development; and Outreach, Volunteering, & Planning). Students reach levels of engagement through participating in activities in the various categories. At most recent count, over 250 non-Scholar students attended CWIT events this past semester. Seventeen students reached Level 1 of engagement, earning their CWIT Affiliates T-shirts. Of those seventeen who reached any level, one reached the highest level of engagement (Level 4), eight reached Level 3, and four reached Level 2. We have enjoyed seeing several Affiliates become integral parts of our community and look forward to continuing to support students from across COEIT in future semesters.
Thank You to Our Sponsors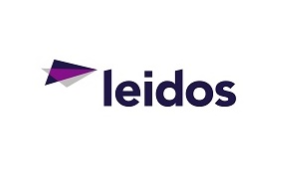 Send newsletter submissions to Cindy Greenwood at cindyg@umbc.edu
Learn more about what our community has been up to since 2009!