1998
The Center for Women and Information Technology (CWIT) was founded by Joan Korenman in July 1998. At the time, Korenman was a Professor of English and Director of the Women's Studies Program at UMBC.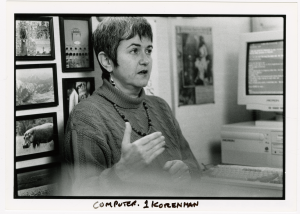 1999
The CWIT Speaker Series held its inaugural event with the following four talks:

Anita Borg gave the inaugural talk: "Women and the Future of Technology"
Aliza ("Cybergrrl") Sherman: "Women in Cyberspace: Changing the Gender Landscape of the Internet"
Ana Sisnett: "Who're You Callin' a 'Have-Not'?: Technology, Access, and Training for Women"
Women IT Executives Jeanne Allert, Michelle Benvenga, Patricia Bransford, Jane Brown, and Marsha Jews: "High Power, High Tech: Women IT Execs Talk Business" (Panel Discussion)

ABCNews.com described the CWIT website as

 "the best resource on women and technology on the Web."

 The website included resources such as "News about Women and Information Technology," "Books about Women and Information Technology," "Speakers Series," "Web-based Syllabi for Women – or Gender-Related Courses," and more.

Sandra Shattuck served as CWIT's first Associate Director.
2000
CWIT developed and ran New Beginnings, a groundbreaking program designed to help disadvantaged women move from poverty and homelessness to well-paying, more secure jobs in information technology. Developed by CWIT in collaboration with the Computer Certification Training Center and several Baltimore social service agencies, the program provided nationally recognized A+ certification training to prepare these women for entry-level positions in computer support and repair.
2001
CWIT Founder and Director Joan Korenman was named one of the "Top 25 Women on the Web" by the non-profit organization San Francisco Women on the Web in May.
Claudia Morrell stepped in as CWIT's Associate Director.
2002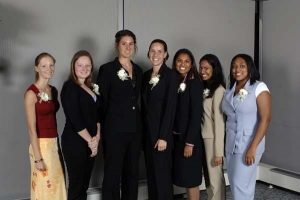 The CWIT Scholars program launched in the fall of 2002.
UMBC received a $100,000 grant from the AT&T Foundation "to support the Center for Women and Information Technology's efforts to increase the number of women pursuing careers in information technology."
The National Science Foundation awarded a grant of $118,570 to UMBC for support of the "Women and IT Video Project" under the direction of Joan Korenman, Anne M. Spence, Claudia Morrell, and William Shewbridge. [Claudia Morrell came up with the idea for the music video, which is designed to encourage young women to think positively about careers in IT.  Entitled "You Can Be Anything," the music video won awards when it was completed in 2004. Claudia Morrell was its Executive Producer, and the music was composed by Michael Bacon.]
Computer-Mania Day made its way to UMBC for the first time, inviting primarily middle school girls to spend a day participating in technology-related activities. Follow the following link to a video describing one Computer-Mania Day event: https://vimeo.com/287078146
2003
The CWIT Living-Learning Community (LLC) was formed in Harbor Hall to provide incoming Scholars and Affiliates with the chance to be surrounded by like-minded, driven individuals in IT.
Alpha Sigma Kappa, a sorority for women in technical studies, was formed by women who lived on the first CWIT LLC.
CWIT website is included in Baltimore Magazine's "Best of Baltimore".
Baltimore Magazine published an article highlighting Joan Korenman's work with the title, "Web master: UMBC's Joan Korenman is making sure the IT revolution doesn't leave women behind," written by Elizabeth A. Evitts.
Joan Korenman stepped down as CWIT's first Director. Claudia Morrell was promoted from Associate Director to Director at this time.
2004
The Enhancing Science and Technology Education and Exploration Mentoring (ESTEEM) program was formed to engage young girls in technology.
The CWIT LLC moved to Erickson Hall.
Several rooms on the fourth floor of the Information Technology/Engineering building become what is still known as the CWIT Office.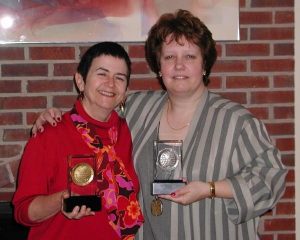 Pictured above: Joan Korenman and Claudia Morrell received an award in 2004 for the "You Can Be Anything" music video (produced in 2002), funded by the NSF.
2005
Alpha Sigma Kappa became an official chapter.
2006
CWIT expanded to include not only computing majors, but engineering majors as well.
2007
The first Bits and Bytes event was hosted on February 18-19, 2007. Girls in their junior year of high school with a strong interest in computing and engineering were invited to learn more about the CWIT Program and get the full experience by staying overnight on the CWIT LLC.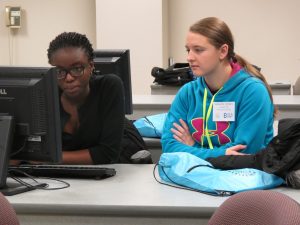 2008
Dr. Penny Rheingans began her time as CWIT's Director.
The Faculty Mentoring Program was established to create connections between faculty members and Scholars.
2009
The First Annual "C-WHAT?" Day took place to promote community team-building between Scholars, Affiliates, and Industry representatives from each major.
The CWIT Affiliates Program started with 17 students. The program has grown to 289 students in the 2017-2018 school year.
Katie (Glasser) Hayes became CWIT's Assistant Director.
2010
Dr. Susan Martin stepped in as CWIT's Associate Director.
2011
The first Spring into Leadership was held on April 5, 2011 to uplift female leaders in computing and engineering fields and provide them with a platform to pass on advice to those in the CWIT community.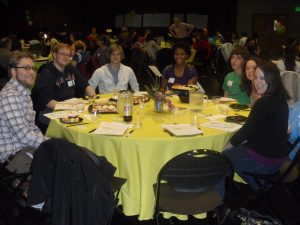 The first Fall Career Networking Event was held on September 22, 2011.
A new course titled First Year Experience (FYE) for freshman Scholars was piloted in the fall to help students transition successfully from high school to UMBC.
The Men in CWIT initiative was created to involve men in the Scholars Programs in discussions about how to become better advocates for women in computing and engineering fields.

Men in CWIT, Fall 2013

CWIT changed its name from "The Center for Women and Information Technology" to "The Center for Women in Technology" in order to recognize all members of the program on July 1, 2011.
2012
The 

Transfer Scholars in Information Technology and Engineering (T-SITE) program 

began in March of 2012. Funded by an award from the National Science Foundation (NSF), this merit-based and need-based scholarship supports new transfer students. Transfer Scholars also receive academic support through a variety of CWIT programs and services.

First Year Experience

 was officially registered as a one-credit class in Fall of 2012.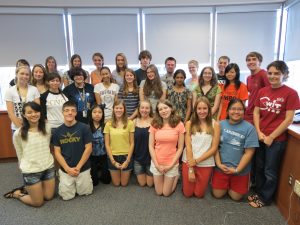 Crystal Diaz-Espinoza joined CWIT as Assistant Director.
2013
Cindy Greenwood joined CWIT in a new position as Assistant Director of the Cyber Scholars Program.

The Cyber Scholars Program was created as a joint effort between the Center for Cybersecurity and CWIT. The program was initially funded by a generous $1 million grant from the Northrop Grumman Foundation.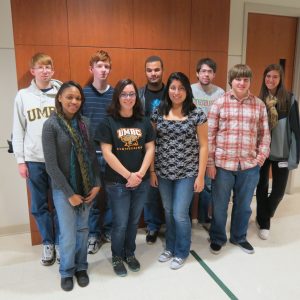 2014
The first CWIT 

Spring Retreat

 was held on February 1, 2014. Spring Retreat is a one-day event where Scholars from all three programs spend the day building community with one another. (Affiliates living on the LLC started attending this event in 2017)

October 20, 2014 was the first Building Excellence through Scholarships in Technology event (better known as

 BEST of CWIT

), where high school students are invited to learn more about CWIT and what it means to be a CWIT or Cyber Scholar or Affiliate.

Participation in Grace Hopper Celebration of Women in Computing

 — CWIT received funding from a project under the title BRAID: Building Recruiting and Inclusion for Diversity, to send students to the Grace Hopper Celebration each year.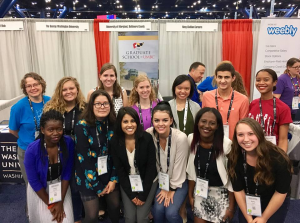 The CWIT LLC moved to Chesapeake Hall in Fall of 2014.
2015
Dr. Anne Spence became Interim Director for one year while Dr. Penny Rheingans was on sabbatical.
2016
CWIT celebrated UMBC's 50th anniversary by hosting an Alumni Tea event.
Erica D'Eramo joined CWIT as the Assistant Director of the CWIT Scholars.
Dr. Danyelle Ireland joined CWIT as the Associate Director.
CWIT received a $1,117,096 NSF grant titled, "Developing, Implementing, and Evaluating a Post-Transfer Pathways Program for Computing and Engineering Majors."
2017
"Men in CWIT" became "Allies in CWIT" with a new mission: Positively influence the gender climate in the College of Engineering and Information Technology community (COEIT) at the University of Maryland, Baltimore County (UMBC) through educating allies of women in computing and engineering fields. Three goals that are key to this aspiration:

Learning about issues and skills affecting the gender climate in COEIT.
Understanding one's own privilege and understanding your identity in the group.
Taking action and implementing the skills and techniques learned.
2018
Dr. Carolyn Seaman began her time as CWIT's Interim Director.
A Strategic Planning and Mission Committee re-evaluated CWIT's Mission and Focus.
Students and Staff traveled and participated in the Richard Tapia Celebration of Diversity in Computing Conference.
CWIT celebrates its 20th anniversary as a birthday celebration.
A new logo was designed in recognition of CWIT's 20th Birthday, becoming more representative of the technological areas that CWIT encompasses.
2019
Kate O'Keefe joined CWIT as the Assistant Director of the Affiliates Program.
Students and Staff traveled and participated in the Society for Women in Engineering Conference.
2020
Dr. Carolyn Seaman becomes the Director of CWIT.
CWIT, along with the rest of UMBC, switches to entirely virtual operations due to COVID-19.
2022
Tuesday Barnes becomes the new CWIT Associate Director.
2023
CWIT celebrates its 25th anniversary!