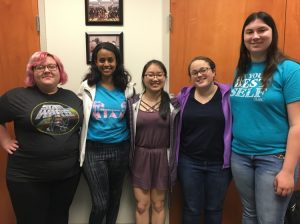 The CWIT Student Council creates opportunities for all Scholars and Affiliates to have fun throughout the year! Their mission is to foster a strong community through social events.
2018-2019 
CWIT

 

Student

 

Council

 Officers

President: Rebekah Kempske (C14) Mechanical Engineering

Vice President: Jay McIntyre (Affiliate) Computer Science

Secretary: Carly Heiner (C16) Computer Science

Treasurer: Timnit Tesfatsion (Affiliate) Information Systemsr

Affiliates Representative: Simbiat Odeshina (Affiliate) Information Systems

Historian: Emily Duan (C14) Mechanical Engineering

Freshman Representative: Coming soon!
2017-2018
CWIT

 

Student

 

Council

 Officers

President: Hannah Aris, C13 Chemical Engineering

Vice President: Manika Sachdeva, Affiliate Computer Science

Secretary: Riya Gandhi, T5 Computer Science

Treasurer: Rebekah Kempske, C14 Mechanical Engineer

Affiliates Representative: Jay McIntyre, Affiliate Computer Science

Freshman Representative: Carly Heiner, C16 Computer Science
2016-2017
CWIT

 

Student

 

Council

 Officers

President: Hannah Corcos, C11 Mechanical Engineering
Vice President: Hannah Aris, C13 Chemical Engineering
Secretary: Sydney Menikheim, C12 Chemical Engineering
Treasurer: Nsikan Jacob, Affiliate Computer Engineering
Affiliates Representative: Manika Sachdeva, Affiliate Computer Science
Freshman Representative: Jay McIntyre, Affiliate Computer Science