Alumni Feature, August 29, 2018:
Name: Kwame Robertson
Scholars Program: Cyber (Y3 cohort)
Graduation: May 2018
Major: Computer Science
Current Job: Splunk Professional Services Consultant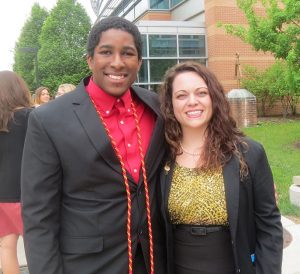 Kwame says:
"Without CWIT, I don't think I would have made it so far in my academics, met so many friends, and made everlasting bonds with my residents as the resident assistant for two years on the CWIT Living-Learning Community. Because of CWIT and the Cyber Scholars Program, I was able to get my first internship and later my first full-time position after graduation through Cyber Practicum. It was in Cyber Practicum that I found out about a really cool analytics tool called Splunk and made it a goal to learn more about it. I got certified and picked up a part-time job at school, then graduated with a full-time position where I got to learn all about it.
My time in CWIT/Cyber was an absolute ball of time. I would redo my experience many times over if I could."
Alumni Feature, September 12, 2018:
Name: Angela Norton
Scholars Program: CWIT Scholar
Graduation Year/Cohort: May 2015/C10
Major: Chemical Engineering
Current Role: Graduate Student at the University of Delaware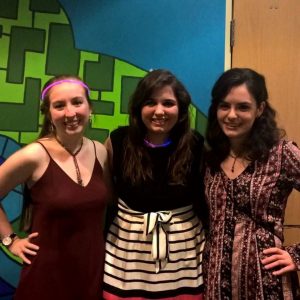 "When I was in CWIT, I remember participating in a program called Bits and Bytes. Girls in their junior year of high school came to UMBC, learned about the CWIT program, and participated in interactive challenges related to STEM. This aspect of service and encouraging others stayed with me. Now, as I move along in my professional life, I try to pursue these similar opportunities. This past year, I was involved in an outreach group that helped sixth graders with their math skills. The year before that, I helped set up scientific experiments for young girls interested in engineering and science. Career success comes in many forms, maybe a job promotion, or an excellent presentation… or even an outreach activity within the local community. The last of which I have found to be a very rewarding experience, and I am very thankful to CWIT for introducing me to the idea!
Here is some advice I have learned over the years.
1) Listen! (not just to music, but to each other!)
2) Read! (the news, textbooks, a scientific article, your favorite book)
3) Prepare! (and then seek out feedback)
4) Communicate! (whether it be in the form of conversation, writing, or presentations)
5) Search! (find your role model's resume to see what they did to get to where they are)
6) Share! (let others know about good opportunities)"
Alumni Feature, October 17, 2018:
Name: Elyse Hill
Scholars Program: CWIT Scholar
Graduation Year/Cohort: 2017, C12
Major: Mechanical Engineering
Current role: Graduate Student at University of Guelph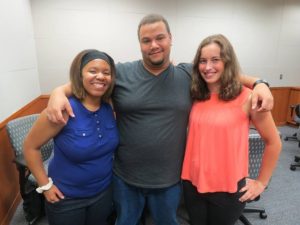 "Through CWIT, I was able to get involved in undergraduate research and teaching. CWIT encouraged me to volunteer in a lab on campus, which helped me realize that I liked research. CWIT also encouraged me to apply to be a teaching fellow, capitalizing on the leadership I displayed when I was a peer mentor for the First Year Experience class. Being a TF was my favorite thing from my time at UMBC, which helped me realize that I needed to teach in the future. Without those two experiences, I don't think I would have become interested in my path to obtain a PhD and to become a college professor one day.
CWIT made sure that I didn't feel alone even if I was alone. Currently, I work in a lab where I am not only the only woman, but also the only black person as well. When I first started in the CWIT program, I was in a similar position, being the only African-American in my cohort. But the atmosphere CWIT promoted never made me feel isolated or subject to stereotype threat. Instead, I thrived in that environment because all of my friends were supportive. Because of that, I can be in environments where I'm underrepresented and still feel at home, which is a powerful skill to have to navigate through the workplace and life."
Alumni Feature, November 20th, 2018: 
Name: Sam Smith
Scholars Program: CWIT Scholar
Graduation Year/Cohort: 2017/C12
Major: Mechanical Engineering, Minor in Music Performance (Violin)
Current Role: "I am currently a Process Engineer for The J.M. Smucker Company in Orrville, Ohio (in the largest Jam and Jelly Plant in the World!). The next time you go to a restaurant and see jam or jelly cups on your table just know that I helped make those!"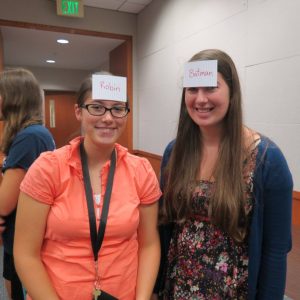 "CWIT helped me grow into the engineer I wanted to be. I realized I made the right choice to pursue engineering by volunteering to help lead activities during some of the outreach events (Let's Get Techy). It was thrilling to try to take things apart, figure out how they work, and put it back together. Working with the students also allowed me to discover my love for working with people, the kids were always unpredictable! Now that I work in a plant, I am constantly learning how processes work, how to make them better and how changes will impact the daily operations for our technicians. Not all situations are as fun as volunteering for Let's Get Techy and CWIT helped me build my confidence to handle those situations professionally and gracefully! Since graduating I have encountered several instances of people being resistant to work with me because I am a young female engineer. During those times I remembered how CWIT has taught me to steer those conversations into constructive and positive events (and not take doubt from anyone!)"
Alumni Feature, November 28th, 2018: 
Name: Alec Pulianas
Scholars Program: CWIT
Graduation Year/Cohort: 2014/C9
Major: Computer Engineering
Current Organization: Johns Hopkins Applied Physics Lab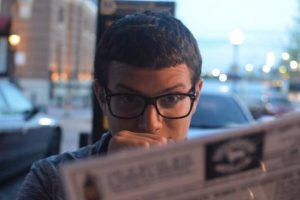 "When I first started at Lockheed Martin in 2014, I found out that their Women in Engineering Day had gone dormant and made it my goal to bring it back. With the help of CWIT, I was able to reach a much larger set of schools, making an event that was once only 20 high school women to about 100. I led the event for three years before changing jobs and joining Johns Hopkins Applied Physics Lab. At the lab, I recently worked on a WE Local Baltimore panel submission, which was accepted, so we will present our panel discussion at the conference on February 9th. The purpose of the panel is to create a dialog about how men and women can work together to empower women and create more active advocates. We are excited that our panel was accepted so we can talk about men and women going outside their comfort zone and convert more people into "active advocates". Our thought is there are many people who support women in the workplace, but are unaware of the micro-aggressions they might be committing. We want to discuss tactics that we can all use to tactfully approach those situations and create better outcomes."
Advice for current and potential scholars:
"If you get the privilege to join the CWIT community, you will not be disappointed. It is an invaluable resource. Take advantage of everything it offers but more importantly, give back so many more can receive the same benefits."