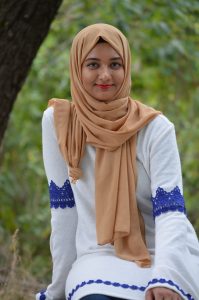 Cyber Scholar, Y5
Major: Computer Science
Expected Graduation: 2021
My name is Amina Mahmood and I am a Cyber Scholar, specifically from the Cohort Y5. Currently, I am majoring in Computer Science in the track of Cybersecurity. I worked as a Junior Malware Analyst at Huntress Labs for 4 semesters, and I interned at Parsons this past Summer. I am the Treasurer for the Cyber Defense Club (CyberDawgs), a member of the Muslim Student Association, as well as the Student Dining Committee. I voiced the need for a halal food place on campus since my freshmen year, and I am proud to have been part of the opening of one called The Halal Shack in Commons. Currently, I am working on research with Dr. Joshi on creating a rootkit type detection system in Windows. Being a part of the CWIT community has provided me with tremendous support in the field. I am very thankful for the skills I have obtained by being a member of CWIT. Some of these skills include networking with professionals and applying to new opportunities to strengthen my passion and knowledge in Computer Science. UMBC has provided me not only with opportunities, but also the resources to improve my skill set and increase my knowledge. As a junior, I cannot wait to grow with the strength and encouragement of the CWIT and Cyber Community.