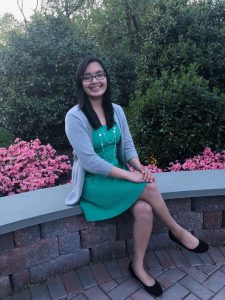 CWIT Scholar, C17
Major: Mechanical Engineering
Expected Graduation: 2022
Hello, my name is Mei Vader and I am a passionate, eager student who enjoys hands-on activities. I am conversationally fluent in American Sign Language and am working towards my Associates of Science in ASL Interpreting. With my degree in ASL and Mechanical Engineering I hope to design and develop assistive technology with a focus on the Deaf and hard of hearing communities. Other than using my hands to communicate using ASL, I love to knit, crochet, and fold origami. I am also an animal lover and foster rabbits in my free time for a nonprofit organization that rescues rabbits. I am thrilled to be joining a diverse and exciting community as a CWIT Scholar.