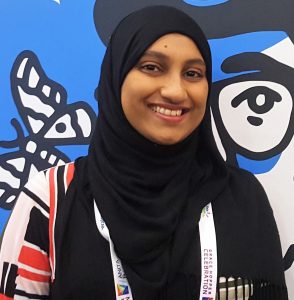 Cyber Scholar, C5
Major: Information Systems
Minor: Mathematics
Expected Graduation: 2020
CWIT is a community of people who are always willing to help no matter what. When I started at UMBC, I didn't know anyone. Coming from another country also made it difficult. However, I found CWIT community, who has helped me and made my college experience amazing. I always wanted to help women who want to pursue their career in technology fields. CWIT has given me the perfect opportunity to encourage women and other underrepresented groups to enter into the technology fields. Because of CWIT, I had an opportunity to attend Grace Hopper Conference 2018, where I got a chance to meet the greatest women who are so successful in their careers, who have achieved so much in their lives. I got to know about their struggles and experiences. CWIT community has made me confident. I am so proud to be a part of it.