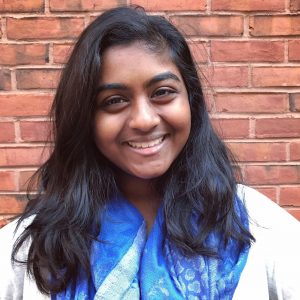 Major: Mechanical Engineering
Expected Graduation Year: 2020
CWIT Scholar, C15
Hey! My name is Sriniti and I am a proud member of the Center for Women in Technology scholars program here at UMBC. As a minority woman in STEM, CWIT has given me the confidence to succeed and strive for greatness in my academics and in pursuing my degree. The advisors, staff, and fellow students all aid me to do the best I can in my classes, and make my experience here more memorable! In addition to CWIT I am a member of the Student Government Association (SGA), the South Asian Student Association (SASA), the American Society of Mechanical Engineers (ASME), and the Society of Women Engineers (SWE). In these organizations, I can partake in change on campus and am able to voice my ideas and concerns in order to make my education better and my university experience more wholesome. I look forward to continuing my college journey here at UMBC, and hope to make a difference on campus and in the world!