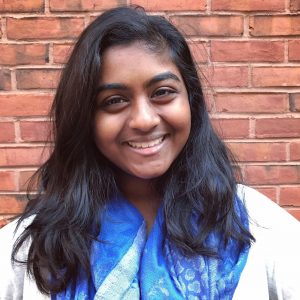 CWIT Scholar, C15
Major: Computer Science
Expected Graduation Year: 2020
Hello, my name is Sriniti. I am a Computer Science major and a Mathematics minor, and I am a member of the Center for Women in Technology scholars program here at UMBC. As a woman in STEM, CWIT has given me the confidence to succeed and strive for greatness in my academics and in pursuing my degree. The advisors, staff, and fellow students all aid me to do the best I can in my classes, and make my experience here more memorable! In addition to CWIT I am a hackUMBC organizer, and a desk staffer at Erickson Hall, and I tutor for various Computer Science courses. I look forward to concluding my college journey here at UMBC, and am excited to see where I will go after for my career!